June 15 - August 20, 2023
WHAT WAS – WHAT IS
Solo exhibition:
Gitte Svendsen
WHAT WAS – WHAT IS
is an exhibition based on Gitte Svendsen's residency at
La Clinica
(Oaxaca, México, 2023), showing works made during her stay, as well as pieces that were tufted, a type of textile manufacturing in which a thread is inserted on a primary base, in her studio in Denmark.
Svendsen's works are inspired by her immediate surroundings. The streets, the market, the accumulations and excesses of the urban landscapes. Her practice seeks inspiration in the color and material compositions that form cities, be it Copenhagen, Oaxaca or another. She uses the grids of cities, as well as self created ones, as structural base for her compositions, where tufting acts as a form of spatial painting.
In the exhibition, she uses papier-mâché as a material familiar to her practice and present in Mexican tradition; in other works she uses plexiglas, as its opacity captures the light and its rhythm throughout the day in a spectrum of colors that change with the wind and sun.
WHAT WAS – WHAT IS
seizes the architecture of
La Clinica
, creating an encounter between materials and space that stimulates the senses before the mind.
---
---
February 24 - March 25, 2023
El RECINTO presented:
HÁBITAT PRESENTE. ARTE, TERRITORIO Y TECNODIVERSIDAD

Curated by: Isabel Deheza
Participating artists: TRES + Media Lab MX, Bárbara Foulkes, Fernando Feria e Irizaida Navar, Bea Millón, Giovanni Fabián Guerrero, CYBORGRRRLS + JEQO, Miguel Cinta Robles, Líquidos para contenedoras porosas Lucía Hinojosa, Daniela Solís, Irene Trejo, Elena Solís, Paulina Grange. Investigadores y activistas: Josefa Sánchez Contreras y Francisco de Parres Gómez
Habitat Presente reflects on the current environmental emergency in Mexico, while seeking to open encouraging dialogues. The exhibition promotes transdisciplinary knowledge, which is why it seeks to create networks between audiences, artists, researchers, and activists of different ages, trajectories, and parts of the world.
The exhibition was accompanied by a series of activations such as: (1) a screening and conversation of "Milpa Comunal", a documentary made by Edith Morales that talks about the land and corn, about the wisdom of campesina women, and about the importance of communality; (2) an open dialogue at Casa Biocultural Niyana; (3) a presentation of the publication "Fragmentos: Glosario de Investigación" in El Anhelo; (4) a conversation about mining in Mexico with the participation of TRES art collective, Media Lab MX, and Bea Millón which can be revisited
here
; (5) and during the opening a menu from FUF! and a sound performance by Fer Feria.
---
---
January 6 - February 17, 2023
EL RECINTO presented:
Nature must go, you must stay
Curated by: Tan Uranga
Participating artists: Andrea Guízar, ASSAAAAAMM, C.Nuñez, Daniel Robles Lizano, Daniel Uranga, Enrique Arriaga, Javier Fresneda, Manuela Riestra, Margot Kalach, Mayra Karvalho, Natalia Ramos and Piedra Volcánica.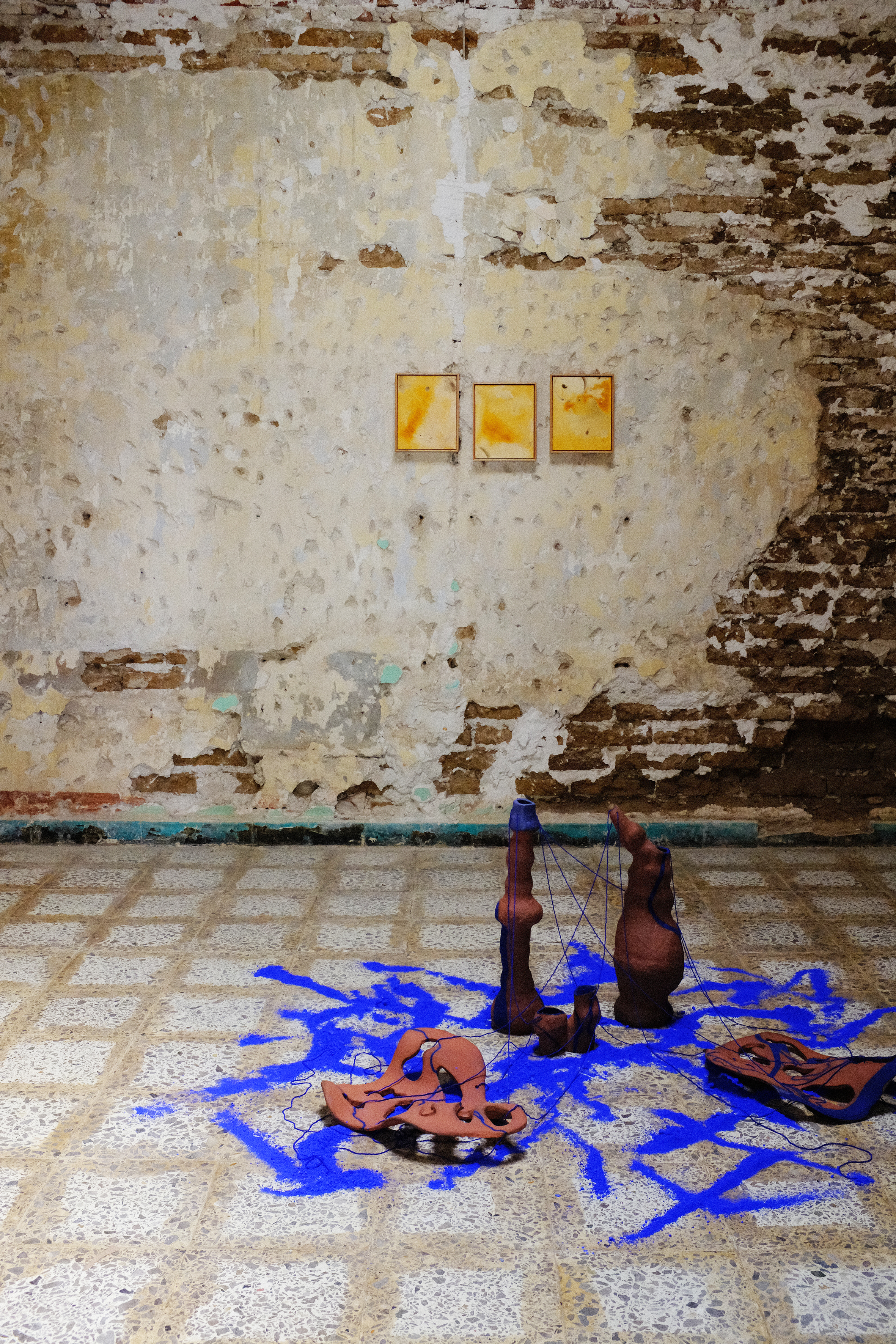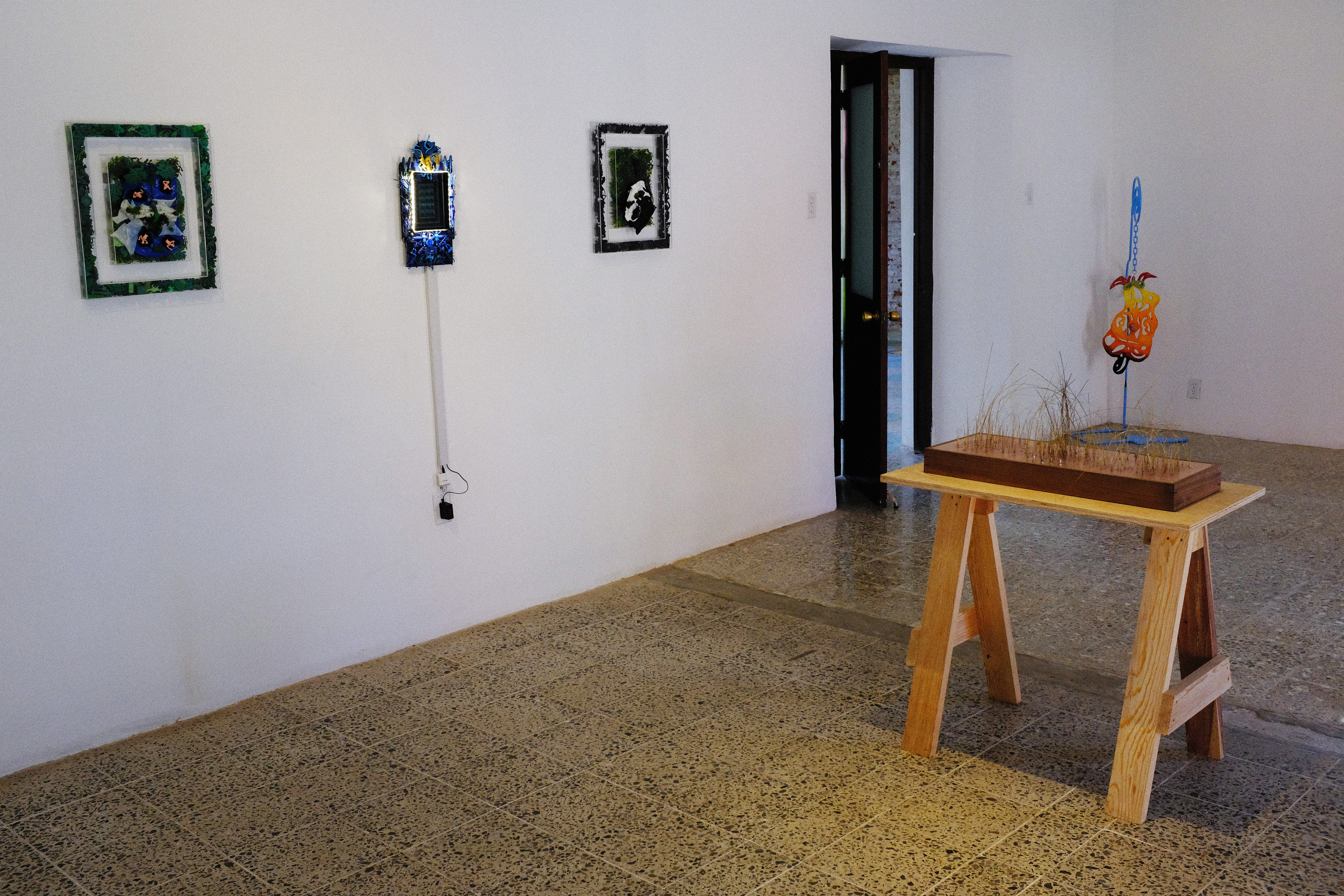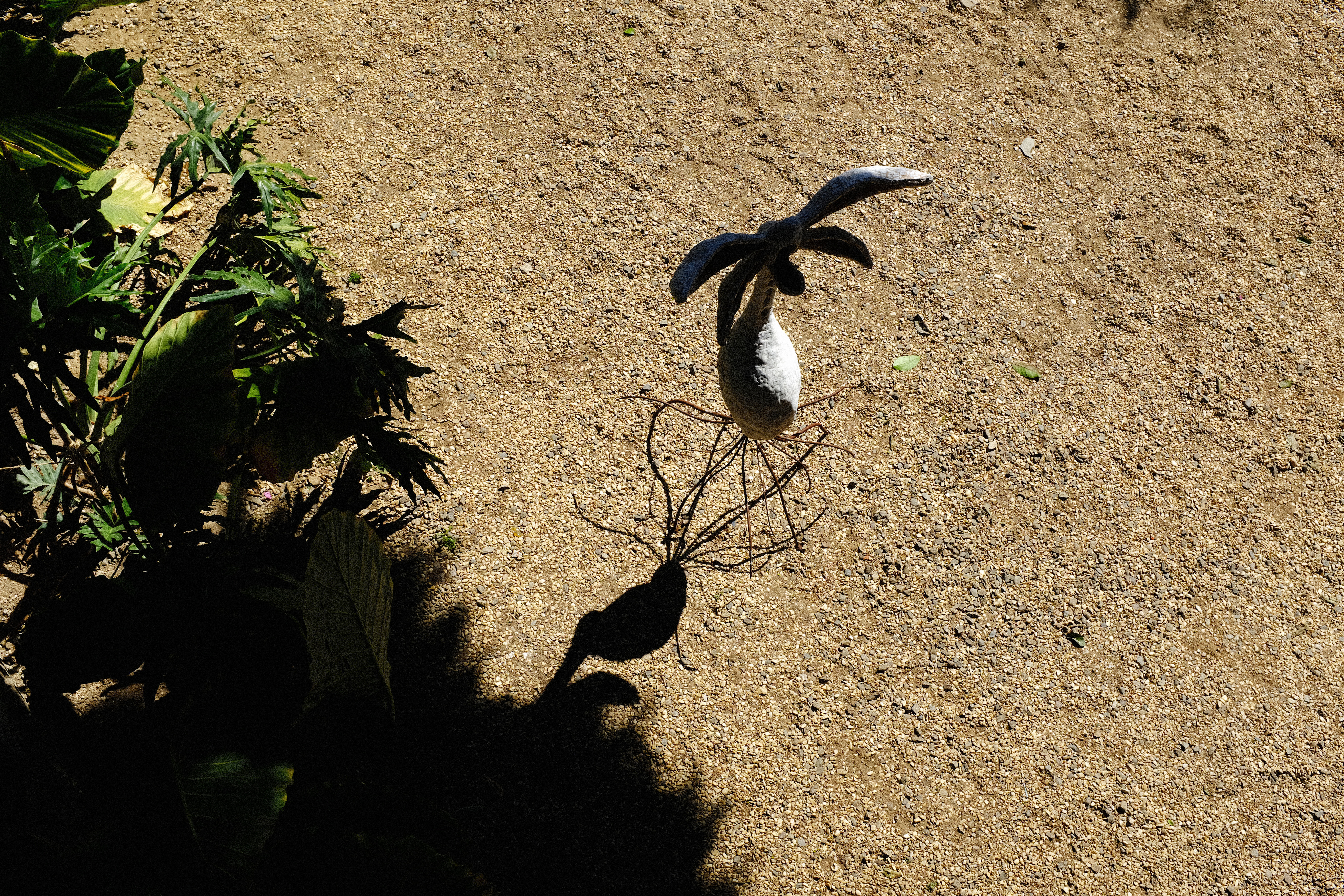 The works exhibited do not pretend to be mimetic representations of nature, but seek to question the systems of production with the understanding that the manipulation of the materials implies a manipulation of their meanings.
It is inevitable to serve ourselves, and our purposes, from nature. What the artists propose is to rethink the meanings and values we have granted to the material world, and instead return to the physical plane and its realities to find other ways to approach nature outside of the logics of mass consumption.
When analyzing the processes of reorganization of systems and beliefs, it is essential to consider the proposals of these artists, for they show the multiple scenarios, exits, and realities that each one is experiencing in the environmental crisis.
Tan Uranga

---
---
October 26 - December 31, 2022
Compelled To Be Here (part 1: By All Means Necessary)
Participating artists: Dimitri Madimin
With texts by: Ariadna Solis
By All Means Necessary, seeks to problematize how certain forms of violence are legitimized and justified through an idea of art that was conceived in the Renaissance, and how hip-hop (as an art form) is constructed instead in terms of raciality/criminality and therefore considered a taboo form of expression. Building then a bridge of urgent discussions between global north and south territories regarding identity politics, resistance strategies and artistic practices. Creating conversations and working with the nuances of the specific ways in which systematic oppressions are embodied in localized experiences. Presented for the first time in Rotterdam, the exhibition displaces the following questions (and the ways in which they manifest) to Oaxaca, as well as how their answers confront and imagine other realities through art, the body and joy.
---
---
August 25 - October 16, 2022
"a knife to carve a knife with" chapter 2:
Participating artists: Eunice Choi, Harry Dodge, Liam Wilson, Rachel Youn, Rame Cuen, Ramón Jiménez Cárdenas
Chapter 2 takes Nadie Es De Aqui as an aesthetic territory for departure …some of Rame's sculptures begin to vanish while other objects begin to emerge. An Ikea shelf, a stack of books, plants, a lamp, a couch… each belonging to a participating artist.
The different objects that come together in the space are a space (a where) for synthetic thinking; keen on sharpening a sense of complicity (and agency) in the shaping of matter.
Exhibition text
May 13 - July 1, 2022
"a knife to carve a knife with" chapter 1:
NADIE ES DE AQUÍ
Participating artists: Rame Cuen
"a knife to carve a knife with" is a 2 chapter exhibition of La Clinica exploring making and unmaking methodologies. The first chapter involves Rame Cuen's cosmology Nadie es de Aquí; his methodologies for this body of work involve collecting pasts, assembling landscapes, and ligering with heritage. Becoming implicated in heritage; sharpening it rather than cutting it off. Objects, seeds, and photographs are laid into a space in which no-one owns anything, but rather owes everything.
---
---
September 16 - October 16, 2022
Hey gringo they are killing us women...
Participating artists: Talena Sanders
Located at Jardín Carbajal
During her time in Oaxaca Talena Sanders was intrigued by the graffiti directed towards tourists, some of it occupying the same rhetoric as right wing politics from the United States: "hey gringo go back to your land". Ironically, that land is not the gringo's land.
A message that particularly struck her wasn't occupying that rhetoric but simply sending a message: "hey gringo they are killing us women". Talena chose to reproduce that message in papel picado, typical decorations that folklorize a space for the tourist's gaze.
Graffiti that is political, critical, and directed towards foreigners gets painted over by the city almost every Sunday. The decorative aspect of Talena's piece camouflages the message in a tourist-friendly language of representation. Instead of talking to "the other" Talena is talking to herself.
---
---
August 19 - September 16 2022
The Coronation
Participating artists: Talena Sanders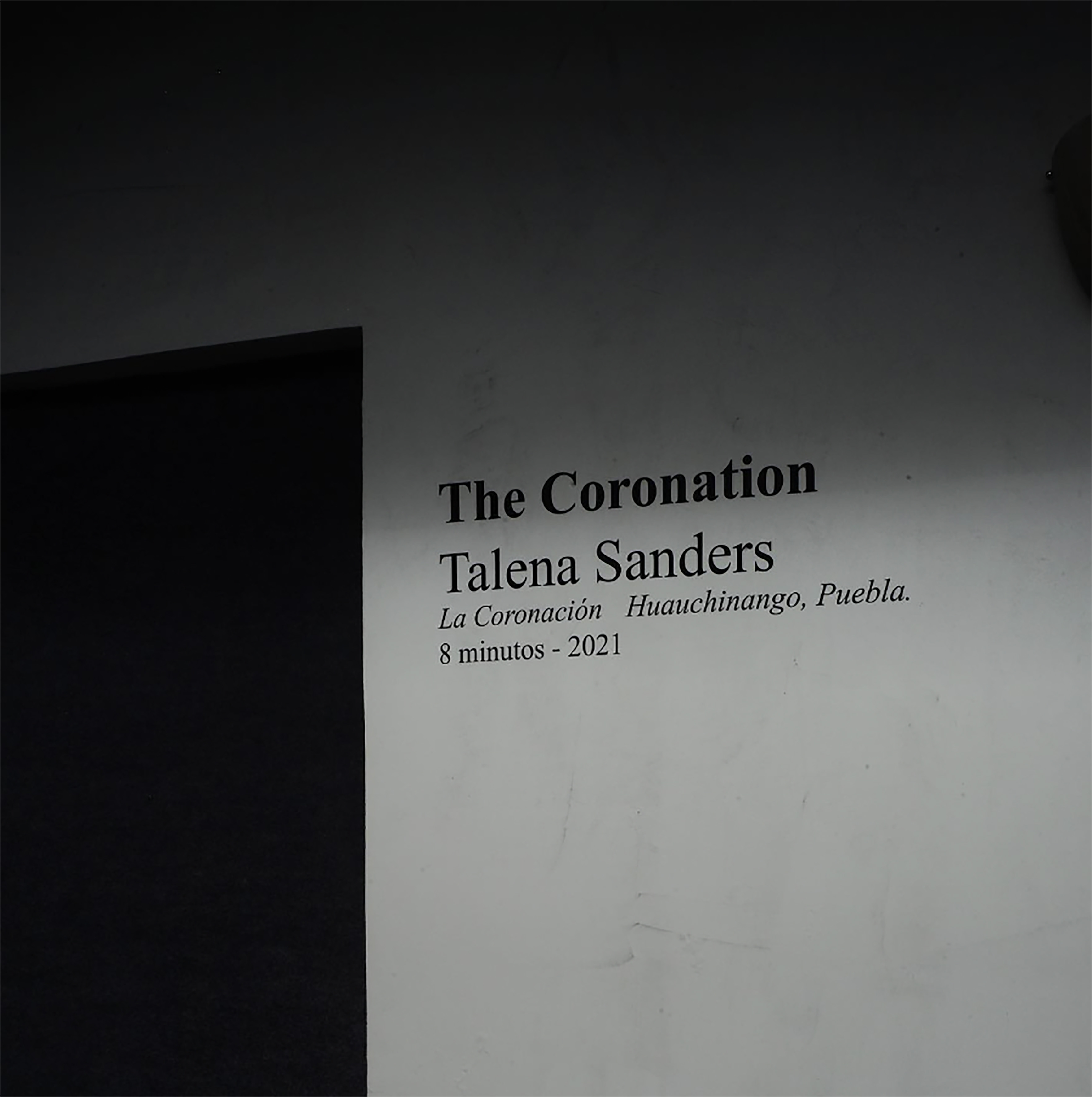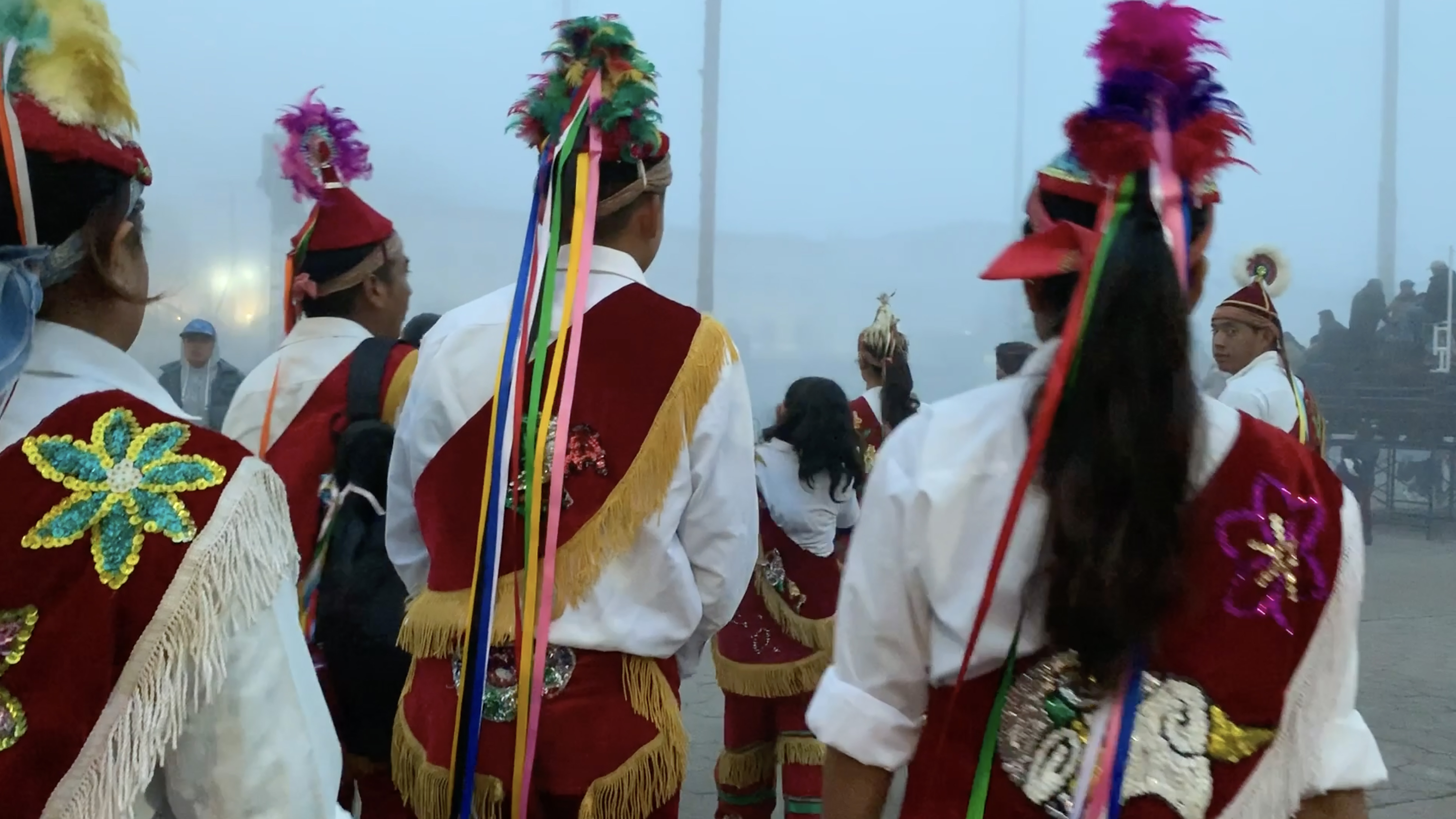 The Coronation is a short film that documents a Mesoamerican ritual ceremony held in the present day, designated by the
#UNESCO
in 2009 as Los Voladores.
Full text by Efraín Velasco
---
---
Thursday August 19, 7:30pm
Short Films by Talena Sanders
Talena Sanders draws from her background in experimental film and studio arts to create ethically engaged, visually striking cinema that questions and destabilizes the documentary form. Largely working in 16mm film, Sanders is deeply engaged in historical analysis, materiality, and lives lived - her works ask critical questions of privilege and power in who gets to tell the stories of lived realities.
Talena's work has been screened, exhibited, and collected internationally, including at the Museum of the Moving Image, Museum of Modern Art, BFI London Film Festival, New York Film Festival, FID Marseille, Montreal International Documentary Festival, Viennale and DokuFest Kosovo. Her first feature film, Liahona, is distributed by Documentary Educational Resources and Doc Alliance. Talena is currently an Associate Professor of Communication and Media Studies at Sonoma State University, where she is developing a new undergraduate degree program in Cinematic Arts and Technology.
---
---
April 9, 2022
La Sombra de Terra Nullius: Colonial imaginaries as actual life. Institutions; dispositifs; tautologies; ambiguities.
Curator talk by James Oscar
La Clinica hosted curator, art critic, and anthropological researcher James Oscar for a lecture series part of his curatorial research project titled, The New Region of The World, which is being developed at a year-long residency at Fonderie Darling in Montréal.
Learn more about: une nouvelle région du monde
---
---
January 14 - April 17, 2022
CUEN Gallery presented:
Disorientation Devices

Participating artists: Camila Cadogan, Ricardo Diaque, Michel Gantous, Paola Medina, Haylie Jimenez, and Sydnie Jimenez. Their practices operate over multiple disciplines ranging from the fine arts, to social interactions, performances, and pedagogy. It is in this manner that the artists encountered on this platform are bound under an artistic and therefore political position, rather than a specific discipline.
Curated by Ramón Jiménez Cárdenas
How do we imagine kinship? How much of our imagination and perception has been imposed by external agents, including the state, religion, class, or gender norms? How can we reimagine, or respond to those impositions?
Together with the artists, the exhibition embraces the difficulty and joy of making kinship without any predefined prototypes, blue prints, or definitions of what a family (call it what you want) is or should look and feel like.
This exhibition was commissioned by
CUEN Gallery
exhibition catalog
read the full press release
January 14, 2022
Lengua Materna (performance)
Participating Artists: Paola Medina and Rebeca HernándezEscolta: Areli Díaz (abanderada), Adolfo Díaz (comandante), Valeria Díaz (trompeta uno), Olger Hernandez (trompeta dos), Christian Hinojosa (tambores)
Maestro de Ceremonias: Ramón Jiménez Cárdenas
Documentación: Roberto López Flores y Daniel Cabrera
With their collaborative performance "Lengua Materna", Paola and her mother, Rebeca, seize gestures, dialogues and patriotic actions, to reject the dominant nationalist language that takes over the mother-daughter relationship. In this way, the language between Paola and her mother is limited and simultaneously overcomed by the fact that they are constantly weaving the terms of their relationship. The texture of this fabric, of this conversation, dissolves the hierarchy between mother and daughter and thereby shakes the traditional idea of the family to propose a different notion of "mother tongue" that has little to do with the last name and the official language of the state, but with a shared language that arises between two people who allow themselves to intertwine.
January 15, 2022
La Masculinidad es un Evento
(artist talk)
Participating Artists: Michel Gantous
Michel Gantous tells us about his project: Incubadora de Masculinidades / Incubator of Masculinities. A long-term iterative project that seeks to explore and co-create anti-sexist and anti-hegemonic masculinities from pedagogy, participation and the living arts. It seeks to respond to the need to act against hegemonic machismo in Mexico from masculinities and with the assertion that machismo is not essence, biology or necessity. Machismo is better understood as a social trend that as Mexicans we have learned to replicate on a day-to-day basis, but that is as prone to change as any other socio-political institution.
---
---
October 21 - December 15, 2021
MASA Galeria presented:
Elementos Vitales: Ana Mendieta in Oaxaca
Participating artists: Pia Camil, Frida Escobedo, EWE, Adeline de Monseignat, Solange Pessoa
Curated by Su Wu
©The Estate of Ana Mendieta Collection, LLC Courtesy Galerie Lelong & Co. Licensed by Artists Rights Society (ARS), New York
Photography by: Central Fotográfica
An exhibition that honors the work of Ana Mendieta by returning the aftereffects of an encounter — its documentation and subsequent influence — to the place itself. For the first time, five of the artist's celebrated filmworks will be presented in the state of Oaxaca, where they were made, including the first filmwork from Mendieta's 'Silueta' series, filmed at the Yagul archaeological site in 1974.
Paired with newly commissioned installations by five contemporary artists, architects, and designers, and curated by Mexico City-based writer Su Wu, the exhibition highlights the prodigious period in which Mendieta's travels to Mexico coincided with the development of her singular approach to earth-body works.
This exhibition was conceived by
MASA
, a nomadic gallery founded in Mexico City in 2019.
read the full press release
---
Opening times during exhibitions:
Monday: 13:00 – 18:00
Tuesday: closed
Wednesday to Saturday:
11:00 – 19:00
Sunday: 11:00 – 18:00
-> Accessibility
La Clínica
C. Macedonio Alcalá 808
68000 Centro Oaxaca
México